St. Anne in Renaissance Music: Devotion and Politics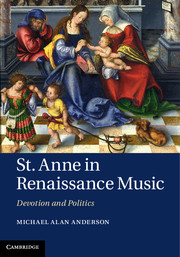 APPENDIX B
The link below provides a document containing the translation to Appendix B from Prof. Michael Alan Anderson's book, St. Anne in Renaissance Music: Devotion and Politics (Cambridge University Press, 2014). This is a complete English translation of a "Mass for St. Anne" (Bibliothèque nationale de France, MS fr. 1035), prepared around 1518-19 for Marguerite of Navarre.
Translation of Mass for St Anne
ERRATA
Figure 5.3 (p. 170 with discussion on p. 169-71). The image on the left (p. 1 of the primer) features St. Anne presenting Anne of Brittany and the Virgin Mary to St. Claudius. My thanks to Roger Wieck for confirming that the "girl" is indeed Anne of Brittany.