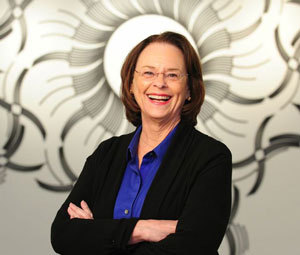 Ann Moore must be considered one of the most successful women to have worked in Corporate America. She was the first woman CEO of Time Inc. and served as Chairman and CEO from 2002 to 2010. During this period she was recognized by Fortune Magazine as one of the "50 Most Powerful Women in American Business" and by Forbes as one of the "100 Most Powerful Women." She can count as her friends some of the most important figures of our time from the Clintons to the tennis star Billie Jean King. But today, just a few years after retirement she is having more fun than she and her husband Donovan ever thought possible. Because Ann not only opened an art gallery in Manhattan but also brought to bear her extraordinary creative flair in connecting ideas and people with art. Her new (old) idea for the arts is brilliant and could so easily be applied to other art forms from classical music to jazz, creative writing and drama. This is what she's done…………….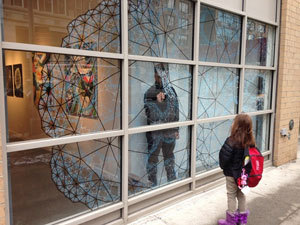 Her gallery, The Curator Gallery, which is about 1600 square feet in size, is situated at the foot of one of the entrances to that marvel of urban (and urbane) regeneration, the High Line on 23rd and close to 10th Avenue in NYC. It's a beautiful space which she shows off with obvious enthusiasm. The young staff seems close to her and more like friends enthusiastically supporting the mission than employees. Opened in March 2014, the gallery is not, as Ann insists, a charity, which for her would create totally the wrong message. Rather, it is a market place for art. And she doesn't mind too much if she loses money in the process.
This is how she sees the gallery's mission: It's all about taking away the fear and unapproachability of art and artists. Given the lack of arts education in our school system, people at all levels of society have learned to live without the arts and as such are deprived of the most transformational creativity. The gallery acts as a matchmaker by attracting and expanding the base of buyers and creating a direct relationship between the buyer and the artist.
The format for achieving this is so brilliant and yet so simple. Each of the gallery's shows is curated by an artist, such as Manhattan art dealer Rebecca Michelman, who is expected not just to produce the show but to be the "educator." For a small and very select audience (and we'll get to that piece of genius planning in a moment), the artist-curator presents the basics of an art lesson, how you develop an eye, how you start an art collection and how you begin to value works. All this within the space of a 20-minute presentation plus Q&A. Ann sets up the whole evening with her introduction.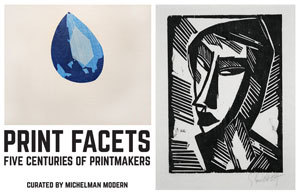 One recent show, "Print Facets," juxtaposed the completely famous with the virtually unknown by literally hanging the different works side by side. So you might have Jasper Johns, Picasso , Durer, Goya, Warhol, Hopper hanging next to Liz Chalfin or Margot Myers or John Torreano all of whose works would likely sell for less than $10,000. But what a showcase and for artists whose ages range from 21 to 98!!! Ann plans up to six exhibitions a year and each lasts six weeks.
Nancy Hubbard, a young Brooklyn-based artist who is currently an artist-in-residence at the Invisible Dog Art Center, is a poster child for the opportunities afforded by the Curator Gallery. She worked with Rebecca Michelman on "Print Facets," a retrospective of print making over the last 400-500 years that contrasted a vast range of styles with the cutting edge new. Nancy was fascinated to have her work shown alongside that of Andy Warhol. The gallery sold everything that she exhibited and her work will be featured in the new show in January.
So what about the audience? As I stated it's select. About 100 invited guests in total who are given a glass of wine and nibbles — so their attendance is really not about the food!! They come because they have developed curiosity — and trust — through Ann's support and tutelage. They are also young, ranging in age from mid- 20s to 30s and they are earning big bucks in NYC. (Ann insists that everyone pay $20 for the night so that they have "skin in the game". This made me smile but she's right. It's an important beginning ) Her guests include alumni from the Harvard Business School and MIT; new young executives from Credit Suisse, JP Morgan , Women's Forum and Forbes Magazine; and Wall Street traders.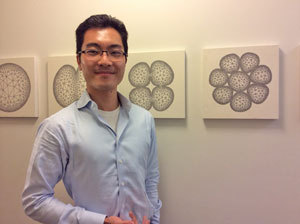 Leo Mizuhara is 30 years old and works as a Portfolio Manager for Bank of America. Leo studied at the University of Chicago and describes himself as a math/science geek. He lives in an apartment in Greenwich Village. The Curator Gallery has become a regular haunt for him and he has attended six — eight events this year. Clint Fulkerson is an artist who has attracted him enormously and he now owns two series of Fulkerson works with five pieces in each. Prior to this purchase Leo owned just two works of art and he still thinks of the walls in his apartment as pretty bare. His attitude to art is refreshing and energized. He feels that artists lack funding but not because the funding and interest do not exist, but because artists don't know how to connect. This connection to the world of finance is vital, he says, because people feel responsible to support activities that interest them in creating a culture and a world that they want to live in. It's a form of artistic democracy using cash to support things that should be thriving.
What can result from these matchmaking events is the start of a relationship with an artist; the confidence and desire to make art a priority in one's life; and experiences in which art can transform one's world. And, my word, it's working! The gallery's sales of contemporary works by unheralded but highly gifted artists have already reached an impressive level. So much so that Ann's next exhibition, January 8 — February 21, will feature her top sellers who have sold anywhere between seven to 18 works through the gallery. That's amazing. And fun! In her role as guru, Ann makes assignments, asking her guests to visit six other galleries around the neighborhood over the course of a few days and to sample the great places to eat (hummus seemed to be important in this mix) and the good wines available. In other words she invites her guests to take joy in the discovery of and participation in art.
The young British artist Jonathan Smith is probably best known as a photographer working with Joel Meyerowitz and was heavily involved in photographing the World Trade Center in 2003. Jonathan was given a solo show at the Curator Gallery with complete freedom to work and curate an exhibition "without compromises." Sales were so strong that virtually the whole exhibition went, with Ann providing after-show support. The works sold in the $4,000 — $12,000 range and were large pieces: 30" by 40" or even 50" by 80." Jonathan was there for the opening night and met many of the buyers who he described as great people in their 30s and 40s!
So my conclusion.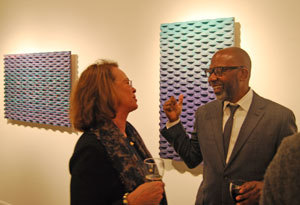 Ann's idea is not exclusive to the world of the visual arts. This highly creative and entrepreneurial way of thinking could be applied to the other arts. What is to stop the introduction of young highly talented musicians, dancers, actors, writers, budding dramatists and film makers from starting such relationships and promoting the idea of true patronage and support? What could be more enjoyable and uplifting than for a young investor in the arts to support a young actor or musician? The initial interface of the relationship needs thought and planning. As does the followup. Probably, we need more Ann Moores. But it may be that potential patrons are just waiting to be asked. It simply requires a different, more open-minded outlook and new ways of thinking about the future of art.
That future is probably no longer about the large institutions. It is instead becoming increasingly about the micro and the intimate and the personal and, in these things lay tremendous energy and possibility. There are probably many successful templates. Ann's Curator Gallery offers one brilliant example. For the rest? ………… Well, that's up to you.