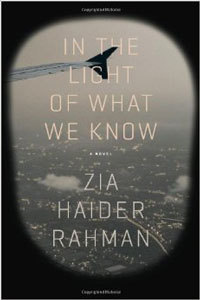 One of my great discoveries this past summer was a debut novel by a young writer from Bangladesh, Zia Haider Rahman, called In The Light of What We Know. I adore first novels as they are often an expression of a vast reservoir of ideas, experience, thought, and discoveries which then explode onto the page ready for us to marvel at and consume. (My absolute favorite debut novel of the past 20 years is Rasero by the Mexican writer Francisco Rebolledo but that's for another blog.)
Rahman's book is a mighty tome extending to nearly 500 pages, and dealing with loss and rediscovery and the limits of our experience and understanding of love, relationships, science and war. His writing is powerful and passionate and the full scope of his ideas takes us on a great journey of discovery. I loved the creative flow and the originality as well as the frequent bon mots: "An exile is a refugee with a library," or "embarrassment is the paramount emotion of the English." Very true! But it is his theme of limitations that takes him to the most important central idea of the book, which is inspired by the work of the Austro-Hungarian mathematician Kurt Gödel.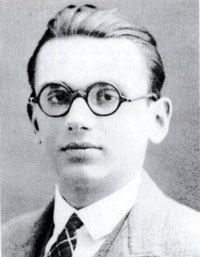 Gödel (1906-1978) was one of the greatest thinkers of the 20th century. He escaped the horrors of Europe in 1939 by coming to teach at Princeton. Whilst at Princeton he became great friends with another extraordinary scientist, Albert Einstein, who loved nothing more than to walk with Gödel and discuss ideas and discoveries with him. One of Gödel's most original and controversial ideas was his "Incompleteness theorem" which he published in Vienna in 1931. In many ways it defines Gödel's genius. Rahman explains:
Described as the greatest mathematical discovery of the age, it is a theorem with the simple message that the farthest reaches of what we can ever know fall short of the limits of what is true, even in math. I have sat down to venture somewhere undiscovered, without the certainty that it is discoverable.
When I first read this I was seated in a beautiful garden in Taormina in Sicily, looking out over the Mediterranean and the towering volcano of Mount Etna. It was really just the place to contemplate this immense idea which I return to frequently, often startling dinner guests by asking them to explain what is meant.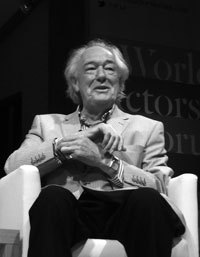 I have extrapolated from this idea a metaphor for what it means to be an artist, as the concept can be applied directly to the striving to obtain the undiscovered that is the quest of every artist. Years ago the great English actor Michael Gambon (in photo right, now better known for Harry Potter movies in which he plays Professor Dumbledore) was playing King Lear at the Royal Shakespeare Company. This is perhaps Shakespeare's greatest and most elusive play, certainly for the title role. Gambon's Fool was another great actor Antony Sher (currently playing Falstaff in Henry IV Parts I and II also for the RSC) who observed Gambon at every performance. Sher recalled that Gambon felt that he never quite understood, touched or completely penetrated the role of Lear. It was just beyond his grasp.
Gambon, himself, in a biography written by critic Mel Gussow, talked about the difficulty of understanding and projecting Lear in the first half of the play:
You're looking for a way into it and you can't find one. The initial rage when he banishes and attacks Cordelia — the way the logic of my mind works, I couldn't find how to do that to make it real. So when you do it, the little man in your head is saying, 'I don't believe you,' and he keeps saying that. So the first part of the play for me was terribly difficult. –Michael Gambon: A Life in Acting, page 205
.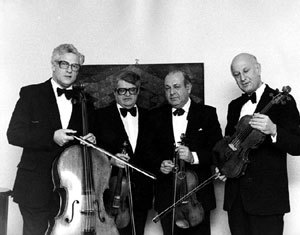 Again from the past, I remember a conversation with violinist Norbert Brainin, leader of the Amadeus String Quartet, an ensemble which I felt then as I do now, came closest to the definitive readings of the Beethoven Quartets. Brainin (second from left in photo), however, disagreed, and stated quite emphatically that there was still a long way to go, and that the quartet had not arrived yet. The English conductor Colin Davis said very much the same about Beethoven's Missa Solemnis. The writings of the great Austrian pianist Alfred Brendel reveal the same sense of incompleteness. And David Tennant, in an inspired programme on BBC TV, aided and abetted by Jude Law, spoke of preparing, rehearsing and performing Hamlet and how it took him to the furthest reaches of discovery but always never quite to arrive.
The true artist has no pride; unhappily he realizes that art has no limitations, he feels darkly how far he is from the goal, and while, perhaps he is admired by others, he grieves that he has not yet reached the point where the better genius shall shine before him like a distant sun. — Beethoven
My good friend, the composer
Alan Ridout
, always spoke of writing a work with focus, energy and a definitive plan, only for the final results to fall short and to disappoint.
Woody Allen
, the writer and filmmaker, has stated 'I am always disappointed – there is always a big difference in what one sets out to make and what one ends up with. What you set out to make is in your mind… in fantasy, it is what exists on paper." I wonder now if Shakespeare felt the same about his plays as he seemed to demonstrate hardly any desire to maintain them as his legacy. Perhaps that greatest of all writers about the truth of our existence, fell short in his own estimation.
"Art is never finished, only abandoned."– Leonardo da Vinci
Being an artist in all its multiplicities of characteristics and talents, is among the most demanding of all demands that we can make of ourselves. We have entered a universe of complexity and simplicity, discovery and delusion. It will never finish. It will never be entirely revealed. It will never be completed. It will continue for as long as we nourish the idea of wanting to reveal the truth through interpretation or creation. A composer friend once told me of a dream he had. In the dream he imagined and heard distinctly a symphony he had written. It was magnificent. Greater than anything he had ever conceived of before and as he woke he could still hear it in his ears and his imagination. He sat at his desk to write and preserve this deluge of ideas and sounds, only to discover that he didn't know how to record them, and finally the energy from the dream dissipated and he was left with silence. Our duty as artists is to be resigned to the silence as the inevitable roadblock of the journey, to have the courage to fail gloriously in our quest, and to continue on nonetheless. The artist after all does not have as his goal perfection, but a glimpse of the truth.
"Art remains alive only if we set ourselves immeasurable goals." — Italo Calvino