Do you ever buy CDs or download music used in movies? Great scores like Out of Africa, Harry Potter, Chariots of Fire, the Batman series? And do you also go for some of the music scored for television series such as 24 or The Sopranos? The music of 24, composed by an alumnus of NEC, Sean Callery, is astonishingly raw and original.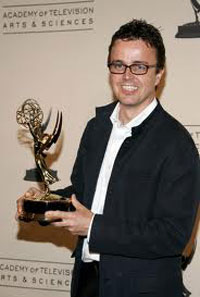 (Sean Callery NEC class of '88)
And the creative team that chooses the music for the individual episodes of The Sopranos are geniuses: everything from opera to Frank Sinatra to Elvis Costello to The Beach Boys. And it's all introduced by that scene-setting Woke Up One Morning, a remix by Chosen One of a song by A3, the most contemporary version of the blues that I know.
None of these films or TV shows would have the same effect on us without music.
Just imagine the shark in Jaws, without its dum-dum-dum-dum theme, or any of the Star Wars episodes without those tunes which introduce us to the characters and their adventures.
I have a particular favorite in Hitchcock's Psycho. Hitch loved to work with the great film composer Bernard Herrmann, who became his frequent collaborator. I have no idea what briefing or instructions Hitch gave Herrmann, but what the composer produced was nothing short of psychological music, which describes and illustrates the state of minds of the protagonists. When you next watch it… if you dare — in the original or in Gus van Sant's homage of 1998 where he recreates every single frame of the original — take a look at the opening scene in which Marion Crane (played by Janet Leigh) is fleeing in a panicked state from the town where she stole a large amount of money. She's driving and it starts to rain.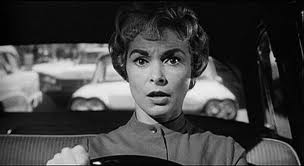 The music, which is savage and sharply rhythmic, is all about what is happening in her mind and it's infectious. It spreads to us and we share her acute anxiety.
Music can do all this. It is visceral. It hits us like no other human language can. And its sound and impact on our lives is something to which we keep returning. We need what it provides. We need its beauty, is harmonies, its consonance and its dissonance, to bring resolution and meaning to our actions. And if music is important for us all, then musicians must be by extension. We need musicians to compose all those songs, symphonies, film scores, operas, chamber music that provide us with joy, nostalgia, reflection, psychological insight.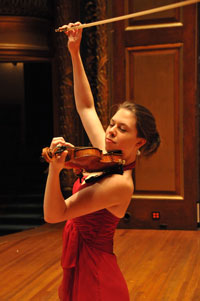 (Tessa Lark Class of NEC'12 Photo: Andrew Hurlbut)
We need musicians who can stand before us and, with power and magic and the type of courage that comes from the soles of your feet, to produce those moments of performance that can change the very air we breathe. We need their continuous interaction with our world. From where I sit in a school of music, this is what I learn from our students every day and every week. There is a continuous, creative striving which knows no limits and no boundaries. I love that. I love what music can be and what it will become.