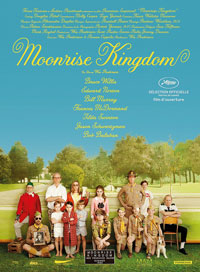 One of the most creative and inventive films I've seen recently was Wes Anderson's 2012 Moonrise Kingdom, with all the strange oddities of style, camera angles, and storyline that make this director's work so compelling and so memorable. Apart from the charming story about two slightly odd adolescents who run away together on New Penzance Island and the various tragi-comic sub-plots, the most brilliant inspiration is Anderson's musical soundtrack. No John Williams or Danny Elfman for him. Instead he selects music by the English composer Benjamin Britten who died in 1976 and whose centenary falls this year on November 22.
Now why this music? And why is it so perfect in this drama? Anderson chooses certain works, including the Young Person's Guide to the Orchestra which plays as a motif throughout the movie. (You even hear a few sentences from the work's narrator as well as its conductor, Leonard Bernstein.) And some large chunks from Britten's children's opera Noye's Fludde. Both works are highly original and have at their center youth, either as the target audience or the target performers. So maybe this is why the young protagonists in Anderson's movie are so well complemented by the music.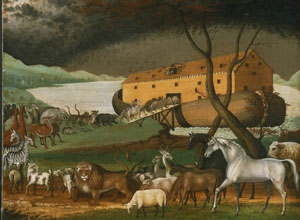 Noye's Fludde is a rarity in my experience. It's written for professionals and amateur musicians to play together. What Britten creates in this work (which lasts about an hour), is the coming together of one of the best known biblical stories, with a medieval text and music that can–improbably, perhaps– galvanize a whole community of hundreds of school kids. I myself took part in such a musical adventure as a youngster and budding violinist, and it resonates still in my imagination.
Having lived with Britten's music most of my life I am now not surprised by this. Britten's music can introduce you to whole new worlds of sound and experience. Just listen to the opening of his song cycle Les Illuminations, settings of the French symbolist poet Rimbaud. There's a string orchestra with all the instruments you would expect, violins, violas, cellos and basses being made to sound like an army of trumpets pulsating with energy. Or in that briefest of movements Phrase, the strings suggest the gossamer harmonics of far-off bells.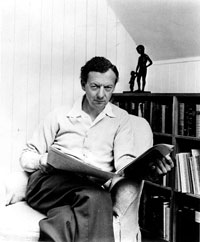 Britten is probably best known for his operas such as Peter Grimes and Owen Wingrave, which I love a great deal, but I keep returning to his instrumental works because, just as in Noye's Fludde and Les Illuminations, he discovers totally new and original ways of using the instruments' colour, technique, weight and intensity. Listen to his Nocturnal after John Dowland for solo guitar and you'll soon come to the conclusion that you have never heard the instrument make such sounds. Or his Violin Concerto where the highest register of the solo instrument becomes the sound of flutes with no transition whatsoever, or his Third String Quartet with a slow movement that sustains extraordinary beauty and expressivity of sound. Or the power, simplicity and emotional drive of his War Requiem written using the structure of the Mass but juxtaposing the movements with the searing words and images of the First World War poet Wilfred Owens:
"Whatever hope is yours,
Was my life also; I went hunting wild
After the wildest beauty in the world…
For by my glee might men have laughed,
And of my weeping something had been left,
Which must die now…
I am the enemy you killed, my friend.
I knew you in this dark, for so you frowned
Yesterday through me as you jabbed and killed.
I parried; but my hands were loath and cold.
Let us sleep now…"
Britten brilliantly balances the giant forces of a symphony orchestra, with a chamber orchestra, a choir, a children's choir, and three soloists. Even with such a colossal armory, he can compress all this sound and noise down to nothing, lingering, for example, upon the last consonant of "Amen." Humming in the air, it sounds like a blessing.

The Young Person's Guide ends with a fugue–a piling on of musical ideas one after the other– and then returns to the original inspiration of the work, the theme by the 18th century English composer Henry Purcell. I once persuaded my good friend conductor Yakov Kreizberg to programme just the fugue as the encore of a performance the Bournemouth Symphony gave in Vienna's Musikverein. It was fascinating how the music began, running and tripping in the woodwinds, becoming more and more dense and complicated as each section of the orchestra entered, and then finally blazing with the brass and that unforgettable theme of Purcell. Maybe it was the location. Maybe it was the quality of the performance. But all at once the full force of Britten's musical power hit me square between the ears and the emotional impact was as potent as the day I played Noye's Fludde in my school performance many years before.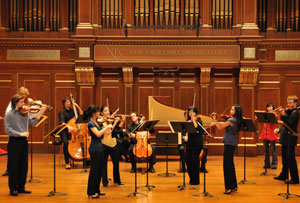 It seems only natural then to join the rest of the world and celebrate Britten's centennial at New England Conservatory. Organizing such a festival here is so very different to anywhere I have ever worked. You might expect there to be a Festival Director or head honcho of some order. Not a bit of it. All that needed to happen was to share my enthusiasm with a few amazing, like-minded members of faculty and suddenly there's energy, excitement and a ton of ideas. Our String Quartet-in-Residence, the Borromeo Quartet, will perform the Second Quartet; the "Pitch Doctor" John Heiss is galvanizing an amazing young quartet to learn, study and perform the Third Quartet in Jordan Hall; guitarist Eliot Fisk has given us the Nocturnal; our conductorless chamber orchestra (pictured above), coached by Don Palma, is playing an all Britten program which includes Les illuminations; an internal string competition led by conductor Hugh Wolff will choose either the Violin Concerto or Cello Symphony for concert performance, and there will be a lieder evening featuring song cycles and folk song arrangements.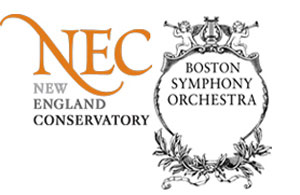 That towering masterpiece, the War Requiem, will also be performed -across the street by the Boston Symphony Orchestra, with which we have enjoyed a great relationship since its founding. Indeed, 50% of the BSO musicians are either alumni or faculty or both. This year, however, we are engaged in a new concert collaboration, the BSO's Insight Series, which opens up all sorts of possibilities for the future. Our Britten performances are providing enrichment and context for BSO audiences attending the War Requiem and we hope that our Britten listeners will also go to hear the Requiem.
NEC's Britten programming is already underway. We have already heard the composer's cantata Abraham and Isaac with mezzo-soprano Erica Washburn and Eliot Fisk's amazing performance of the Nocturnal. Listening to these concerts, I am reminded how this music has always been an important feature in my life. Whether programming it on a concert, attending a performance, or stumbling upon it in unexpected places like Wes Anderson's playful little film, it is for me like returning to the most familiar country and sound world.